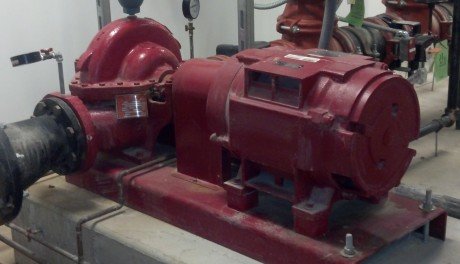 Performing fire pump preventative maintenance is the easiest and most effective way to avoid expensive fire pump repairs or replacements. In fact, fire pump preventative maintenance is much more affordable than an entire fire pump replacement. In many cases, it can even extend a fire pumps life expectancy. If you're considering cutting back on fire pump preventative maintenance you may want to reconsider based on the cost of fire pump preventative maintenance versus the cost of repairs or replacements.
Fire Pump Churn Testing
NFPA 25 requires no-flow/churn testing monthly for most electric and weekly for diesel fire pumps. While the pump runs technicians record pressure gauge readings, check packing glands for discharge, adjust gland nuts, listen for unusual noise etc. to ensure your fire pump is running properly. On average, the annual cost for fire pump churn tests is $1,200 for electric and $7,800 for diesel pumps. Items such as the packing and gland halves require replacement if the fire pump isn't run for a long time. Replacing fire pump packing and gland halves can cost between $2,000-$3,000.
Preventative Maintenance
Annual fire pump churn test:
Electric average $1,200
Diesel average $7,800
Replacement
Packing and gland halves $2,000-$3,000
Cleaning Drain Lines and Clearing Water from Drip Pockets
On the lower half of the casing, the drain lines from the drip pockets must be kept clear. A professional can easily take apart and clean these lines. This costs about $500 and is usually required no more than once a year.  If you ignore these clogged drain lines and standing water in the drip pockets, you can expect hefty repair costs. Often, when drain lines are clogged the packing isn't adjusted properly either. This can cause additional damage to the shaft and associated parts. On average these fire pump parts can cost between $5,000 -$10,000 to repair/replace. Additionally, standing water in the drip pockets is the most common cause of bearing failure. Replacing the fire pump bearings costs $2,500 on average.
Preventative Maintenance
Cleaning drain lines annually $500
Repair/Replacement
Shaft and associated parts average $5,000- $10,000
Bearings average $2,500
Correcting Water Drainage
An improperly pitched floor can cause water to stand on the pump room or pump house floor  But in many cases the fix is as simple as adjusting your drain pipe to line up with the floor drain, extending drain line, or clearing an obstruction from the drain grate. This type of adjustment is minor and is virtually free or very inexpensive. But if this simple fix isn't made, the water can drain into critical equipment such as the fire pump, driver, controller, etc. The cost of a new fire pump controller is $20k-$25k approximately. Additionally, water on the floor is a slip, trip, fall, and electrocution hazard. This could lead to a very expensive workman's compensation claim.
Preventative Maintenance
Clearing obstruction, adjusting drain pipe, or extending drain line is virtually free or inexpensive
Replacement
Fire pump controller average $20,000- $25,000
It's shocking to see the true cost of a fire pump replacement or repair. Since a fire pump preventative maintenance plan is very affordable, it's hard to justify a reason for spending thousands of dollars on a preventable repair. If you're looking to put a preventive maintenance plan in place, review NFPA 25 code on fire pump inspection, testing, and maintenance frequencies. You can also contact a licensed fire protection system service company to help you properly maintain your facility's fire pump.
Categorized in: Education, Fire Pumps, General